We have all been waiting a long time for a new Gameboy Zelda game (bearing in mind, Zelda DX was a remake of the original) and two come along at the same time!
Suddenly transported to the land of Holodrum, Link arrives just in time to watch Onox - General of Darkness - imprison the Oracle of the Seasons. When the forces of nature are cast into chaos, Link embarks on a quest to find the Rod of Seasons, recover the Essences of Nature and face Onox in an attempt to rescue the Sorceress! Aided by an arsenal of Mystical Seeds bearing spectacular magical powers, Link faces an onslaught of evil in his quest to save Holodrum from the long shadow of darkness.
Oracle of Seasons is the first of the two games that can interact with each other. By playing either of the games, you are given a password once you complete it and then enter that password into the second game to continue.
The Japanese name of this title is "Chapter of the Earth".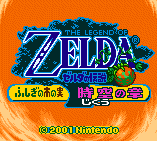 * Recently Updated